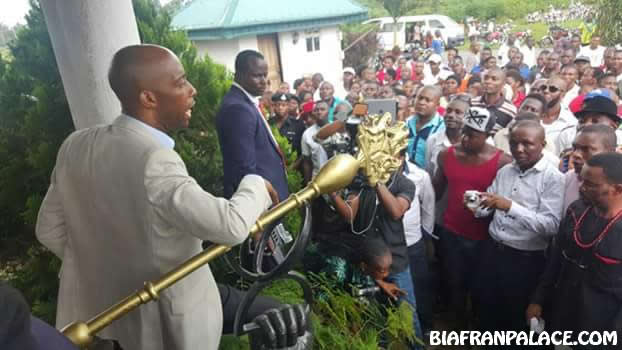 The Speaker of the Akwa Ibom state house of assembly has urged the people of the state to pray for, and show maximum support to, President Muhammadu Buhari and to the state governor, Mr Udom Emmanuel, saying this is time for good leadership and followership.
He said this on Monday when he stopped by his constituency office in Nsit Ubium to observe the public holiday with his constituents.
In calling for supports for President Buhari, Hon. Onofiok Luke urged the people of the state across political parties to ensure that Gov Udom enjoys their maximum supports. He said that at the state level, it was important for everybody to emulate PDP governors across the country who have shunned party sentiments to show support to the president.
"You must pray for Nigeria and Akwa Ibom. You must pray for His Excellency the president of Nigeria to succeed. If he doesn't succeed, Nigeria will not succeed. We are done with elections; now is the time for selfless governance. You must show Mr President full supports without sentiments."
He said likewise at the State level, the people must shun politics to support Governor Udom Emmanuel.
"I tell people, the way PDP governors cooperate with our president so he could succeed, in like manner, let others join hands towards the success of Governor Udom Emmanuel."
During the stop over, the Speaker who is widely known in the state as "The Peoples' Speaker", surprised 10 young entrepreneurs when he gave them one hundred thousand Naira each to support their businesses. He said the money was in the spirit of 'Dakadda' which is being promoted by Gov. Emmanuel. He said the governor wants everybody in the state to attain greatness and that everybody must must key into the dakadda philosophy.
All the ten youths are into small scale businesses ranging from poultry farming to fisheries and retailing.
Speaker Luke said it was important for the youths to not just 'dakadda'. He said that as the state governor has said, every youth should arise and do something profiting for himself and the state.
"Dakadda yem se anam", he told the excited youths who were drawn from across the ten wards of Nsit Ubium local government area.
He assured the constituents that the "industrialization plan of government is on course."
Hundreds of constituents crowded the constituency office in Ikot Edibon when they heard of the Speaker's stop-over. The Speaker said he deemed it fit to visit the people today being a public holiday. He promised to return to the constitituency for what he says will be "constituency thank-you and empowerment visit."
He thanked the women of the constituency for their steadfastness and their faith in the PDP especially as was exhibited in the last governorship election. He expressed appreciation to the women of Nsit Ubium for their love and support for the first Lady, Mrs Martha Emmanuel and for her flagship programme, the Family Empowerment and Youth Reorientation Programme, FEYReP.